Franmarine are now proud to be supporting the Royal Australian Navy (RAN) nationally with a Sovereign Industrial Capability Priority (SICP) of underwater ships husbandry, a consolidated underwater cleaning, inspection and maintenance capability, that is unique to Australia.
In May of 2021 Franmarine delivered upon its SICP project, partially funded by the Department of Defence, reinforcing our national scope by establishing a permanent self-sustained operational premises in Sydney, NSW. By strengthening our national capability and capacity with this premises, we are now able to offer an enhanced level of support to our Defence, Shipping and Infrastructure clients alike.
The hull cleaning or biofouling management component of our capability has led Franmarine to develop biofouling management plans for the RAN that are currently being enacted on some of Australia's most capable warships. The plans are designed to ensure compliance with marine biosecurity policies both Nationally and Internationally, whilst also maintaining the vessels optimal operational performance and reducing unnecessary emissions.
Recent amendments to Australia's Biosecurity Regulations mean that biofouling management plans will soon become mandatory for the shipping industry. Providing regulatory compliant closed-circuit in-water hull cleaning, and niche area cleaning services, Franmarine is uniquely placed to support both the Defence and Shipping industries with the development, implementation, and maintenance of biofouling management plans in Australia.
Another recent milestone for Franmarine was the same day simultaneous delivery of our underwater ship's husbandry capability to the Royal Australian Navy, direct from both our East and West coast divisions.
On the West Coast, we delivered underwater services to the Collins Class submarine's HMAS Waller & HMAS Collins and ANZAC Class Frigate HMAS Perth. Over on the east coast, Franmarine NSW serviced ANZAC Class Frigate HMAS Arunta. The simultaneous servicing of four (4) RAN platforms made up from both the surface and submarine fleets across Australia, represents the provision of an unprecedented level of underwater support to the RAN.
Franmarine are looking forward to further expansion increasing our capability and capacity to play a greater role in sustainment of the RAN surface and submarine fleets nationally. Furthermore, as a certified Defence Industry Security Program (DISP) member we are playing our part in maintaining the integrity of Australia's Defence capability by ensuring Defence Industry maintains its security responsibilities and safeguards the supply chain, Commonwealth material, facilities and assistance.
We're also proud of the fact that Franmarine has recently exported our SICP of underwater ships husbandry to the Royal New Zealand Navy on ANZAC Class frigate HMNZS Te Kaha in Sydney, and the Royal Navy on the nuclear-powered submarine HMS Astute in Perth.
The arrival of HMS Astute in Perth followed the announcement of the enhanced trilateral security partnership called AUKUS. Given the regional security objectives of AUKUS, it is important that the Australian Defence Industry maintains the necessary capability to support future and more frequent visits by our International Defence partners and allies.
Interested in finding out how your organisation and fleet can be more efficient and benefit from our underwater ship's husbandry and asset management capability? We'd love to chat to you! Please email reception@franmarine.com.au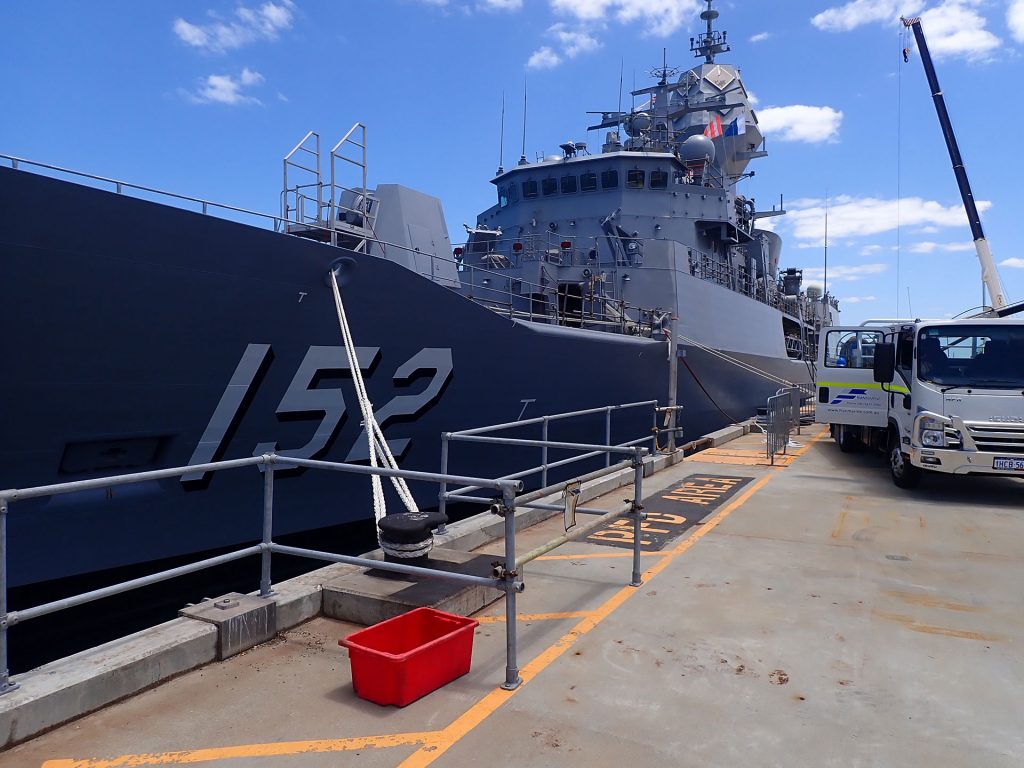 For more information on Franmarine's capabilities relative to Defence, please refer to our Quad Chart